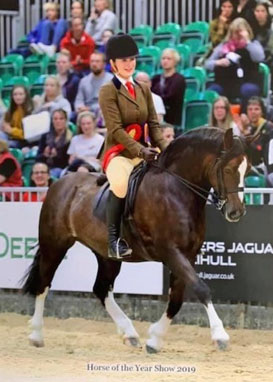 UK Ponies & Horses are delighted to announce its continued support of the Wild Card Series for 2022. 
This will allow one competitor from each of the three Young Rider Classes, as well as the Amateur Class to gain qualification to the Royal International Horse Show 2022 in their respective classes via a "Wild Card Ticket".  This will be based on a league table which will be updated after each RIHS qualifying show via the UK Ponies & Horses Facebook page and the website www.ukponies.uk.
As each combination qualifies in their own right, they will be removed from the table and the highest placed combination at the end of the qualifying period, once the last RIHS qualifying show has taken place, will be the combination that is awarded the Wild Card.
Verification on the results will be confirmed by the UK Ponies & Horses Admin Office. In the event of a tie, the ticket will be decided on the number of placings based on a sliding scale in the current year. If this still results in a tie, then the decision will be made on the number of shows attended in the current year.

---
Please Note : The current leader is closest to the top of the list in each section.
Results As At 05/05/2022
SMALL BREEDS
Name of Pony
Name of Rider
Cadlanvalley Allegro
Grace Gendall
Treflan Elfed
Molly Web
Elberry Suilen
Lilly Richardson
Pumphill Brosnan
Sophie Simmonds
Towergate First Impression
Tabitha Hughes
Hope Ghosts Little Boy
Ella Eynon
Llynhelyg Playboy
Amylee Crutch
Thistledown Jambo
Scarlett Doswell
Senruf Honeybear
Ava Baxter
Milford Fair Bouncer
Lola Carabine
Amilas Clicquot
Lilly Walker
Coppinshill Commeration
Mia Rainford
Eyarth Silas
Isabel Turner
Gigman Michaelangelo
Esme Summers
Colne Typhoon
Mimi Demetriou
Nantfforchog Blue Moondust
Grave Davies
Glebedale Rock and Roll
Niamh Evans
Waxwing Glory Days
Yasmin Lewis
Blackator Goldsmith
Sofia Anders
Cadlanvalley Rio
Olivia Gale
Wellbank Gabriel
Lexi Brash
Rosedew Rafaello
Ava Baxter
Genesis Shem
Carly Ramsden
Parkbourne Buccaneer
Evie Pearson
Kingsmoortown Blackthorn
Harry Edwards Brady
Cosford Fabian
Milly Phillipson
Sharptor Sky Walker
Lottie Newman Moore
Bunbury Suarez
Amira Curran
Bricklefield Jack
Tilly Spillman Penn
LARGE BREEDS
Name of Pony
Name of Rider
Glebedale Dick Dastardly
Mia Geddes
Thistledown Jack Sprat
Florence Cunningham-Bryce
Oakmill Harotio
Scarlet Tharme
Penlangrug One Direction
Rebecca Raine
Menai Lord Cameron
Imogen Hargraves
Belmoral Merlin
Annabel Drake
Wellbrow Black Diamond
Tia Burt
Kilernan Storm
Jodie Corbett
Byersgreen Alfie
Amy Forsdyke
Glenrevaugh Heather
Demi Wilson
Kilpatrick Kestrel
Ruby Murfitt
Thunderbolt Fairy Robin Bambi
Grace Litherland
Nutschullyng Ophelia
Cerys Holley
Settvalley The Gladiator
Scarlet Marshall
Castledales Black Prince
Ava Dodgson
Auchmaliddie Sir Richard
Lexi Brash
Corstan Valero
Alex Coe
Santigma Peacemaker
Emily Locke
Austin of Milton Glen
Harriet Drewery
Synod Reilly
Henry Belton
Taincwn Xavier
Tabitha Paul
Murthwaite Rick
Freya Herring
Dalewin Theia
Akeshia Wilkinson
Kaydence Whatever
Tiffany Orme
Ashmeadow Moonstone
Ruby Hall
Banroc Jack Daniels
Macey Hall
Mountross Eion
Macauley Jackson
Kauri Inspiration
Amelia Hadley
Manor Winnies Comet
Eva Frith
INTERMEDIATE
Name of Pony
Name of Rider
Greenholme Knight
Scarlett Marshall
Glen Falloch of Shanquhar
Olivia Faulkner
Conway Clara Brown
Alicia Davison
Fourmerk Rosalyn
Lucy Dyer
Cloddiau Tomos
Emilia Andrews
Robe Robin Hood
Anna Vinther
Byersgreen Alfie
Amy Forsdyke
Nipna Kack Manii
Amy Pinfield
Suileen Emer
Jade Pirie
Culmore Harry
Leah May
Broughton Flying Roccel
Chelle Jones
Whitefield Lord Underwood
Poppy Fisher
Buckland Blue Print
Sasha Knowles
Farriers Forest Dream
Alexandra Hoyland
Santigma Peachmaker
Emily Locke
Lookout Lauras Flash
Robyn Butler
Sydseriff Gismo
Isabel Hind
Eastlands Dunknowe
Chloe Heathcote
Culver Silver
Charlotte Tuck
Teach Mor Prince
Megan White
Waverheasd Dazzler
Georgie Lewis Roberts
Greenholm Lewis
Lydia Moss
Francesca Hadley
Kauri Inspiration
Glebedale Dick Dastardley
Mia Geddes
Wellhouse Bradberry
Megan Hewitt
Dukeshill Pearly Spencer
Victoria Harker
Penclose Daffodil
Francesca Hadley
Newoak Bobby James
Charlotte Caulfield
Corrig Prince
Gabriella Farebrother Dunn
Thistledown Grand Prix
Megan Share
Lyeswick Casino Jack
Sophie Hatswell
Greenholme Falcon
Chantelle Oliver
Lyncrests Malakie
Phoebe Price
Oakhill Horatio
Scarlet Tharme
LatijnV.D. Helling
Aliya Khan
Anchor Jaffa Cake
Jade Pirie
Applemeadows Prince Charming
Georgie Miller
Dunguaire Fionn Mccool
Phillippa Bamford
Derrymore Boarman
Sophie Beaumont
Lydvale mayrose
Tabby Brightmore
Craiggochfach Hugo
Sophie Barlow
Crumpwell Blue Dallas
Stephanie Seaman
AMATEUR RIDERS
Name of Pony
Name of Rider
Stowbrook Red Kite
Davina Johnson
Glencarrig Rocco
Emma James
Synod Reilly
Louise Shafar
Waverhead Dazzler
Georgie Lewis Roberts
Wyken Sweet Silouette
Annie Thomas
Geordans Oliver ll
Sarah Gemmell
Corstain Valero
Alex Coe
Coole General
Fiona Parkes
Kilpatrick Kestrel
Lucinda Farmborough
Langorra Ginger Port
Natalie Pastor
Thistledown Grand Prix
Megan Share
Farriers Forest Dream
Alexandra Hoyland
Anchor Jaffa Cake
James Price
Syderiff Gismo
Isabel Hind
Kiltiernan Storm
Brooke Corbet
Naylors Dara Sea Mist
Hannah Delaney
Gigman Michaelangelo
Esme Summers
Teach Mor Prince
Megan White
Kilbride Rosemary
Hayley Kane
Breaffy Honey Drop
Harriet Green
Loughmore Rebel
Steph Peto
Craiggochfach Hugo
Sophie Barlow
Applemeadows Prince Charming
Georgie Miller
Trailtrow Tomaidh OG
Amy Sheldon
Lookout Lauras Flash
Robyn Butler
Pumphill Brosnan
Sophie Simmonds
Killmazing Kwanza
Emma last
Moorcroft Miss Rona
Nicola Ross
Menai Georgie Boy
Louise shafar
Ashgrove Wendi
Willow Tarrant
Wellbank Gabriel
Lexi Brash
Murthwaite Heir Hunter
Tara Buckley
Ballykilcash Dan
Rachel Shaw
Walstead Guiness
H Carey
Thistledown Goodnight Mr Tom
Mia Turner
Cashelbay Toby
Lucy Thirlby
Rosshill Sterling
Lara Hughes
Avonvalley Flash Harry
Emily Carroll
Wishaw Red Admiral
Simone Harrison
Pemstrumbly Maid Me Smile
Sam Bowman
Elmbridge Queen of Hearts
Ffion Jones
Byersgreen Alfie
Amy Forsdyke
Bundarra Lad
Laura Holley
Bybeck Monty
Emma hector
Rivervalley Rubin
Karen Lamont
Craigduff Fletcher Flyer
Richard Clough
Cwmtynant Cardigan bay
Molly Mercer